The Primal Blueprint - full instructions for life?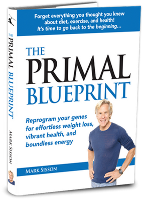 You've heard it before - life comes without an instruction manual. You get cast out there, expected to fend for yourself, and no one really knows how best to stay healthy and happy.
Or do they?
At Uncommon Knowledge, we started working with a list of basic needs for emotional health way back in 1994. The idea is that, once met, this set of human needs ensures you can live an effective life avoiding emotional problems and with the spare capacity to excel, love, and thrive.
We have made these basic needs a central pillar of our approach to psychology and personal development ever since. So when I came across another, similar approach - this time looking more at the physical aspects of life - I was intrigued.
Paleo diet - Primal lifestyle
The 'paleo' diet has been around for many years now. The principle is that if you eat as your ancestors ate before the agricultural revolution, you will be much less at risk for diseases such as diabetes, heart disease, and cancer.
The author of The Primal Blueprint, Mark Sisson, has adapted this diet a little and paired it with a primal approach to exercise, resulting in what I think is a powerful guide to living well.
As you'll see in my review, I've given the primal lifestyle a good tryout and I'm impressed with the results.
Primal Blueprint Review: In Praise of the Primal Lifestyle
(I know this is in the hypnosis review category, and it isn't really a hypnosis review - OK, not at all. It was just easier this way!)